Another Thursday, another two pages of my new webcomic ARE YOU BEING WATCHED? on Patreon (actually, I missed this Thursday because I was at the beach. Friday's close enough). This time, it's a scene set in the Old West, where Mugg has gone to test his "Gookie Face", the expression that will instantly take him out of his adventures if anything happens to go wrong. This particular adventure has gone somewhat wrong from the start, since Mugg appears in the guise of a horse thief about to be hanged; however Mugg cannot resist a kiss before dying from a rancher's wife who looks like Mandy, the girl he's obsessed with. Can Mugg pull a Gookie before winds up at the end of a rope?
David Chelsea Is Watching:
Napoleon Dynamite
with Jon Heder


What does all this have to do with Reality TV, the ostensible subject of ARE YOU BEING WATCHED? Not much, it's just a chance for me to try something a little different. My big inspirations for this sequence were the Western art of Frederic Remington, and the Western-themed comics drawn by National Lampoon cartoonist M.K. Brown, particularly the ones featuring her cowboy character Beans Morocco:
The look of "Calamandy Jane" was inspired by Robin Weigert's portrayal of the Western character Calamity Jane, on the cable series DEADWOOD:
ARE YOU BEING WATCHED? is my first large-scale comics project done digitally from start to finish. Panels and balloons are laid out in Indesign, and the art and coloring are done in Photoshop. I originally did this sequence in grayscale, but afterwards I experimented with converting it to an overall sepia tone in keeping with the old-timey theme. I posted two versions of a single panel on Facebook and asked for comments; the overwhelming majority favored sepia. I'll go back to grayscale once this scene is done, unless my support level rises above $400 a month, in which case the story switches to full color!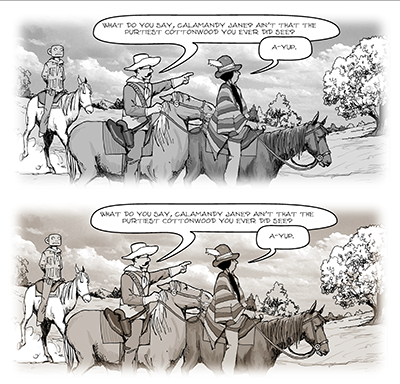 This and all previous installments of ARE YOU BEING WATCHED? are free for anyone to look at, but if you like what you see, feel free to $how your $upport!