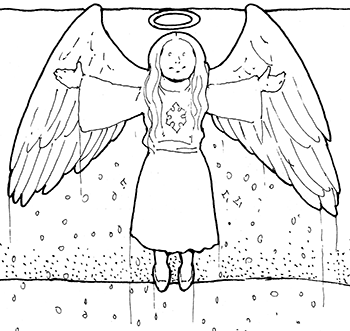 My newest book, SLEEPLESS AND OTHER STORIES: DAVID CHELSEA'S 24-HOUR COMICS, VOL.2, was published by Dark Horse last month, and is available in stores now (and downloadable in e-book form here). I'm doing a series of posts about the six stories in it, starting with this one on the original 24 Hour Comics version of SNOW ANGEL:
David Chelsea is reading: Killing and Dying
by Adrian Tomine


This is the first 24 hour comic I drew outside of my own studio, and the first appearance of my superhero character Snow Angel. It was drawn at an event on 24 hour Comics Day, in October 2007, at Pacific Northwest College of Art's library. I originally intended this story for an anthology that a freelance editor was putting together with the general theme of snow. When that anthology was canceled, I reworked the story in color, using a combination of watercolor and airbrush, and submitted it to Mike Richardson at DARK HORSE PRESENTS. The rest is history.
Briefly, this is the story of a little girl (modeled on my then-seven year old daughter Rebecca) who turns into a crimefighting angel when she makes an angel in the snow. The crime she fights is on the slight side- littering and bicycle theft in this story (in later stories she battles jaywalkers and copyright infringers at a comics convention).
The original version has an extreme case of a problem I often encounter in drawing 24 Hour Comics. When I have a very specific story with a beginning, middle, and end in mind, I will often race to tell it in the most speedy and economical way possible, so that I don't run out of pages– and then find myself running out of story with 10 or so pages left to fill. In this case, I filled the remaining pages with extremely tedious banter between the characters Falcon and Snowman. When I reworked this story for DARK HORSE PRESENTS, I did my best to cut that sequence to the bone (I didn't cut it entirely, because I liked the bit about the William Henry Harrison Snow Globe).
Eventually the DARK HORSE PRESENTS version of this story was published as a one-shot comic book, and a book-length collection of new stories about the character Snow Angel will be published by Dark Horse this month.
SLEEPLESS AND OTHER STORIES: DAVID CHELSEA'S 24-HOUR COMICS, VOL.2
Publisher: Dark Horse
Publication Date: March 16, 2016
Format: b&w, 168 pages; HC, 6" x 9"
Price: $19.99
Age range: 16
ISBN-10: 1-61655-884-9
ISBN-13: 978-1-61655-884-0
Order the book from Amazon here!: