I did promise some time ago to do a report on my recent 24 Hour Comics Day experience at Books With Pictures, my first in three years. Here it finally is! What can I say? I could not have felt more at home in this wonderfully creative space, and I was most impressed with the work being done around me by a gifted crew of mostly beginner cartoonists, including my daughter Rebecca (who is not QUITE a beginner– she drew her first 24 hour comic at Things From Another World three years ago).
David Chelsea is watching: Disturbia
Starring Shia LaBeouf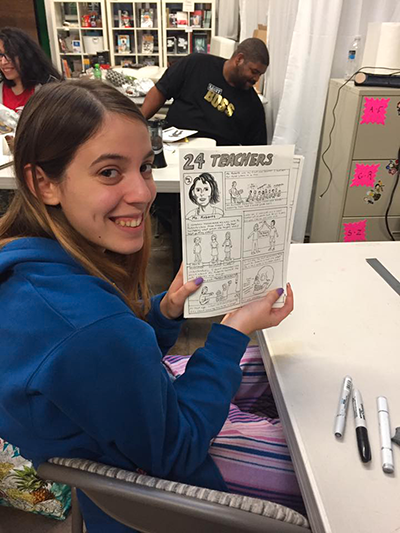 Many thanks to Katie Proctor and her staff for being the perfect hosts, as well as Scottie's Pizza for providing much-needed refreshments:
Rebecca has made her 24 Hour Comic, a true-life memoir titled 24 TEACHERS, available online through her website: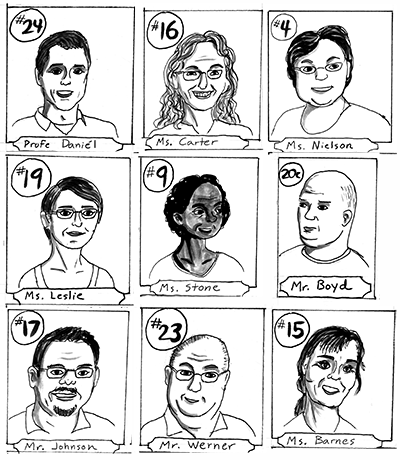 Additionally, Rebecca has posted THE LIFE OF LEAF, her first 24 hour comic from 2013:
I begin serializing my 24 hour comic, WIPER WOMAN, on Patreon today, and continuing for the next 12 weeks.
ARE YOU BEING WATCHED? is going on hiatus for a while. In case you have lost count, the most recent of Mugg's wishes, his appearance on Peewee Princesses, was his tenth, the second-to-last of the Take It To Eleven plan he purchased with his soul. Therefore, Mugg's next wish will be his last, and there will be no escaping from it by making his Gookie face. Not to spoil too much, but this sequence will take place at a Reality TV show built around a 24 Hour Comic drawing session, and will be based on a 24 Hour Comic also available on Patreon, ALL DAY AND ALL OF THE NIGHT. That story was of course 24 pages long, but I have been writing additional material, so expect this version to be somewhat lengthier. I will be posting character designs and working drawings from time to time, but in the meantime I hope you enjoy WIPER WOMAN.
Patreon is a reader-supported site, but all comics content is free. If you like what you see, tell your friends, and $how Your $upport!