A month and change into the quarantine, and things have settled into a routine. Every morning I wake up around 6:30, have coffee and a frozen banana for breakfast (I'm trying to avoid putting on quarantine weight as well as using less toilet paper), feed Winston, post dreams to Facebook, and then work until noon, when I have… another cup of coffee (and feed Winston some dry food). Eve usually answers work emails for an hour or so in the morning, then goes outside to do stuff in the garden. After noon I usually put in a little time pulling weeds (the focus this week- bluebells!), work in the studio for a few more hours, maybe take a leisurely bike ride around the neighborhood in the afternoon. At seven, just before dinner, (and around the time Winston gets his third feeding- he's a growing boy), Eve & I go outside and bang pots and pans or beat on a drum with our neighbors. Theoretically, this ritual honors essential workers, but mostly it just lets off steam. Then Eve & I watch TV: So far we've watched Season 3 of Ozark, Mrs. Fletcher, Avenue 5, Season 9 of Curb Your Enthusiasm, Some of Dave and What We Do In The Shadows, and two and a half seasons of Better Things. I usually get sleepy and head off to bed between 9 and 10.
Some weekly events punctuate the Groundhog's Day sameness. Saturday morning we do our weekly Zoom conference with scattered family. Wednesday evening garbage goes out. Various podcasts arrive on schedule to tell me what day it is. Ken Jennings's Trivia Quiz email tells me it's Tuesday.
I've been making little tweaks here and there to my Patreon page. Recently, I decided to add links connecting all the Call Slip Comics I have posted over the past few years. Cheer your confinement by recalling the bygone days of when libraries were still open! Now you can read the strips in order, starting from the very first:
David Chelsea is reading: Laura Dean Keeps Breaking Up With Me
by Mariko Tamaki and Rosemary Valero-O'Connell


I have been continuing to post new content as well. My recently inaugurated strip DREAM STUFF is still on a Presidents kick:
I have been posting new perspective videos every two weeks or so. The most recent demonstrates how to draw vertical two-point perspective.
Since so many perspective fans are undergoing financial hardship during these days of quarantine, I have decided to make some instructional videos previously seen only on Patreon available to all. This is the first. l will be releasing previously exclusive videos to YouTube on a two week schedule. To see still exclusive videos, sign up as a subscriber to my Patreon page.
There is more to work on besides stuff for Patreon. The most recent issue of the American Bystander arrived yesterday just in time for me to read with my noon coffee. This issue sports a cover by the great John Cuneo, and contains stellar contributions from regulars Peter Kuper, George Booth, Roz Chast, Brian McConnachie, and many others. It also contains my latest illustration, for a piece about a futuristic app that erases everyone's privacy by Google Cloud editor Quentin Hardy.
I'm not sure if this image, which was executed some months ago, exactly speaks to the present moment. The reliance on portable devices rings true, but the social distancing is all wrong:
As usual, I combined two separate pieces of original art to arrive at the final image. I considerably tweaked and desaturated the color to get a suitably bleak dystopian look.
It's always nice to try new things, and a recent commission for Oakwood Gardens in Hillsboro had me designing something I had never done before: a hex sign. Owner Julie Safley was ready to replace eight worn-out hex signs mounted to barns on the property, and asked me to come up with a similar design that honored those indispensable pollinators, the bees:
My design was executed in Adobe Illustrator, which I use infrequently, but which works well for assignments that call for a tidy and symmetrical design: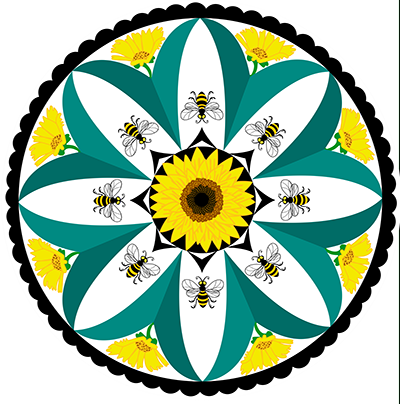 A local sign painter executed the design on wooden panels:
And here is one of the finished panels, mounted in place on a barn: