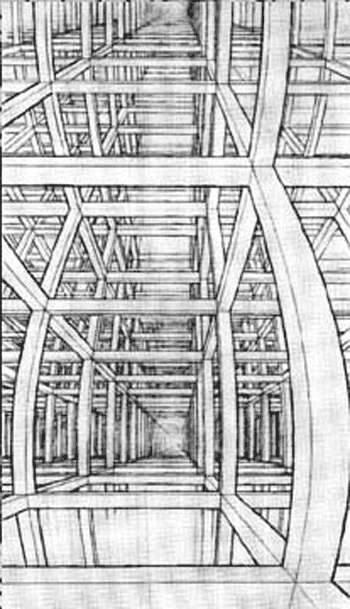 I'll be giving a talk and demonstration of drawing on perspective grids Saturday at Stumptown. Here is part of what I'll be talking about.
David Chelsea Is Watching:
"True Grit"


There have been pre-printed perspective grids for a long time, primarily marketed to architects. I had a set that I used from time to time, but when I wanted to draw curvilinear perspective I had to create my own. I based the curvature on an M.C. Escher drawing I found in a book.
Working over that grid, I was able to create a number of curvilinear illustrations like these:
The magazine I drew this piece for has maybe the coolest name ever: Geriatric Nursing.
When I did my first perspective book in 1997 I included a section of grids in the chapter "Shortcuts To Perspective". I liked Escher's cubic lattice pattern but added regular divisions to the columns. Because these were extremely labor-intensive to draw by hand I was only able to include a few examples. I had intended to include some curvilinear grids as well but dropped that plan under deadline pressure.
One of the first things I did when l got a computer in the late 90s was start constructing perspective grids in a CG1 program. Once I had the basic scene modeled it was easy to create grids at a variety of angles by rotating the virtual camera.
These illustrations from a New York Post series predicting the new millennium were clearly drawn over grids; the regularly spaced columns are a dead giveaway.
My first 24 Hour Comic, The Harold Project, was entirely drawn over grids printed in light blue onto bristol. The  underlying  pattern  of  lines already  suggested  a  cityscape  to  me, and I was able to create backgrounds with an impressive level of detail, especially considering that each page was drawn in an hour.
Next up: more curvilinear grids!
Extreme Perspective! Slide Show and Drawing Demonstration
Saturday April 16th 2:00-2:45pm Room A104
8th Annual Stumptown Comics Fest
April 16 & 17, 2011 • Oregon Convention Center, Portland, OR
Tickets are available now through TicketsWest Online and at participating TicketsWest retailers!