It's the third Thursday of the month, the day that I post The Secret Stash on my Patreon page– that is, sketches, reference photos, old flyers, and other ephemera from my files. Today I have a selection of decorated envelopes sent to friends over the past four decades or so, specifically ones that depict famous people. Because there are so many of these, I split the pile up into male and female celebrities. This month it's men; I'll post envelopes with women at some point in the future.
David Chelsea is reading: Amy and Isabelle: A novel
by Elizabeth Strout


Most of the batch are celebrities from the world of entertainment, with a heavy concentration on famous comedians, like Richard Pryor, Peter Sellers, John Belushi, and Peter Cook & Dudley Moore:
However, there is the occasional author, such as this portrait of Raymond Chandler:
One of my correspondents specifically requested that I put a few shirtless men on the letters I was writing him. I obliged with this portrait of Keith Carradine:
Membership has its privileges; all Secret Stash material is viewable by Patreon sponsors at the $4.99 level and above.
Also new on Patreon today: the final page of the continuing Snow Angel story that has been running for the past number of weeks, along with an extra– a Snow Angel paper doll! Next week: more paper dolls, and action pinups!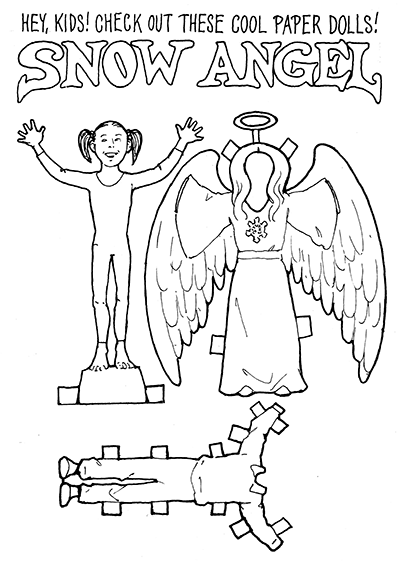 Patreon is a reader-supported site, but all comics content is free. If you like what you see, tell your friends, and $how Your $upport!