I have been so busy over recent weeks that I have not kept up with blog posts, though I have been posting material to my Patreon page on a fairly regular basis: drawings of Tom Terrific from when I was five, end strip comics drawn at the beach, and the like. I have also managed to keep up a page a week on ARE YOU BEING WATCHED?, my Reality TV webcomic. Right now we're in the middle of a return to Expulsion Island, Mugg's second chance to appear on the Survivor-like program from which he was ceremoniously voted off earlier in the story. One of his fellow contestants is a slumming celebrity you might recognize:
David Chelsea is watching: Series 7: The Contenders (Marathon Edition)
starring Brooke Smith


Mugg and Mandy are the final two contestants this time, but they learn that the producers have changed the rules, and instead of facing a vote from a jury of their peers (or barring that, a selection by Nate Silver), they must choose weapons and fight to the death. Mandy seems surprisingly cool with it: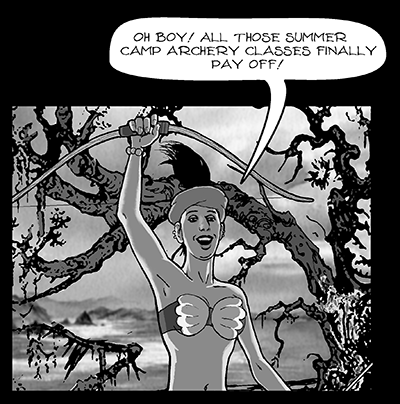 The sequence where Mugg and Mandy are stalking each other includes an homage to Milo Manara's controversial Spider-Woman cover from a few years back. I am indebted to my colorist and sometime assistant Jacob Mercy for coming up with a situation in which that cheesecake pose is not only appropriate, but necessary- crawling through a cave over sloping ground:
Readers may assume this plot twist is borrowed from The Hunger Games, but actually I had more in mind my favorite film ever about Reality TV, Series 7: The Contenders, a satire from 2001 starring one of my favorite actresses, Brooke Smith (who is possibly best known as the kidnapped girl in Silence Of The Lambs):
By the way, if you are coming late to ARE YOU BEING WATCHED?, or missed some weeks and want to catch up, check out the Tumblr archive, starting here.
Also recently posted, a 7 page comic featuring Singar & Mingo:
Singar and Mingo were two little tomato characters in bedtime stories I used to tell Ben and Rebecca. This comic is an adaptation of one of their favorites. I drew it in seven hours as part of my second 24 Hour Comics session on August 29th, 2004. This story has appeared in print twice, as part of the 24 HOUR COMICS ALL-STARS anthology from About Comics, and the Dark Horse collection Everybody Gets It Wrong! and Other Stories, Volume 1: David Chelsea's 24-Hour Comics, but because of the limitation of printing technology, without the red marker color I used for emphasis. Now here it is as I originally drew it.
Patreon is a reader-supported site, but all comics content is free. If you like what you see, tell your friends, and $how Your $upport!