This is the last of my irregular series of posts about stories in my 24 hour comic collection SLEEPLESS, published this spring by Dark Horse. I LIKE TO RIFF is something of a victory lap, both for myself and for any reader who has made through all eleven of my previous 24 hour comics. I constructed the story by putting the names of the eleven previous comics in a sack, and drawing one out at random every two hours. See if you can spot all of them (the first six are in my previous volume, EVERYBODY GETS IT WRONG!).
David Chelsea is watching: Krampus
directed by Michael Dougherty


You may notice that Snow Angel looks considerably taller here than she did in her own comic drawn a few years earlier; I had based her appearance on my daughter Rebecca, and subconsciously drew Snow Angel to age with her. When I draw the character now, I take care to keep her looking around nine years old.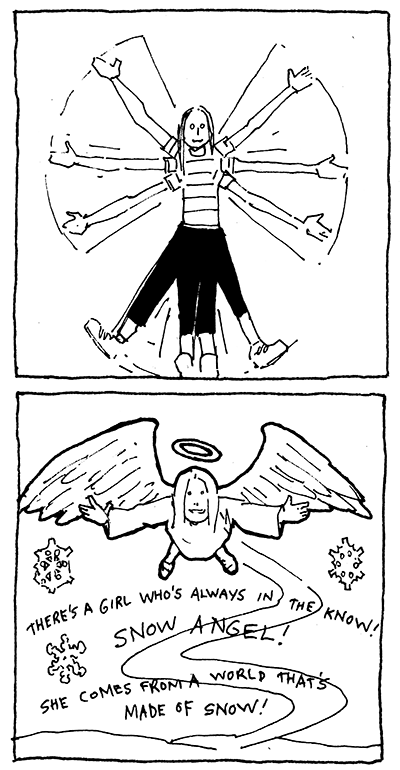 This story also includes a return appearance by the family pet Bingo The Cat, who was featured in his own 24 Hour Comic. Regular readers of this blog will remember my obituary post about Bingo last January:
SLEEPLESS AND OTHER STORIES: DAVID CHELSEA'S 24-HOUR COMICS, VOL.2
Publisher: Dark Horse
Publication Date: March 16, 2016
Format: b&w, 168 pages; HC, 6" x 9"
Price: $19.99
Age range: 16
ISBN-10: 1-61655-884-9
ISBN-13: 978-1-61655-884-0
It's getting awfully close to Christmas, but there's still time to order the book from Amazon here!: