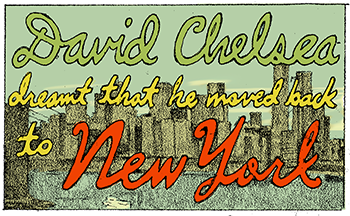 The most recent issue of the American Bystander arrived the other day, just in time for me to read with my noon coffee. This issue sports a cover by the great Peter Kuper:
The overall theme far this ish was New York, so I contributed a comics page combining some dreams I've had over the years about moving back to New York. Somehow I always end up walking the streets barefoot:
Buy the American Bystander #20
In other dream news, I took a 5 month break from posting pages in DREAM STUFF, the ongoing story on Patreon also based on my dreams, but just recently I've posted two new installments:
Dream Stuff #27:
Dream Stuff #28:
Patreon is a reader-supported site, but all comics content is free. If you like what you see, tell your friends, and $how Your $upport!